Affordable Emergency & Cosmetic Dentistry Near You
Accepting Most Major Dental Insurance Plans
The Dental ER is the top choice for anyone seeking quality dental work. Whether you want your teeth whitened, a more confident smile, or any other Safety Harbor cosmetic dentistry work, we are equipped to provide a wide variety of services designed to make your smile its best. The Dental ER is also proud to be a top provider of emergency dental services in Safety Harbor for those issues that simply cannot wait. Best of all, we take almost any kind of insurance! If you have any questions or concerns, contact our friendly office staff.
Severe Tooth
Pain
---
Our Safety Harbor emergency dentists at The Dental ER can provide immediate assistance with a severe toothache.
Dental Injuries Or Trauma
Caused By Car Accidents
---
If you have a dental injury from a car accident or other trauma, don't hesitate to get professional help!
Abscessed
Tooth
---
An abscessed tooth causes pain, bad breath, fever, and the spread of infection. Visit The Dental ER for effective relief.
Cracked Or
Broken Teeth
---
Our Safety Harbor dentists at The Dental ER are ready to treat your cracked or broken teeth.
Pain Caused By Orthodontic Appliances
---
Sometimes your orthodontic appliances may cause you problems beyond mild discomfort. If that is the case, you should see a dentist as quickly as possible.
Impacted Wisdom
Teeth
---
If you find yourself in this situation, it can be very painful. You want the impacted wisdom tooth out almost immediately. We can do that for you at the Dental ER.

Oral & Tooth
Infections
---
The last thing you want is to let an oral infection linger. It can quickly worsen and result in your needing extensive dental work. Our skilled emergency dentists can nip the problem in the bud.
Broken Crowns,
Bridges Or Dentures
---
Having any of these items break is a disaster that needs to be remedied fast … by professionals. Do not try to fix them yourself.
Schedule A Dental Appointment Today!
Emergency Tooth
Extraction Dentists
---
With the latest technology and cutting edge techniques, our Safety Harbor tooth extraction dentists can provide quick relief!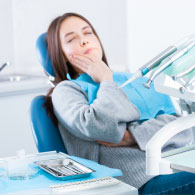 Tooth Infection
Treatments For Pain Relief
---
Find effective, affordable pain relief in Safety Harbor from our licensed dentists at The Dental ER.
Qualified Dentists
For Oral Surgery
---
As licensed, experienced dentists, The Dental ER provides a variety of painless, effective oral surgery procedures in Safety Harbor.
Effective Oral
Sedation Dentistry
---
Don't let fear or anxiety keep you from quality dental care. Our dentists offer effective oral sedation and calming solutions.
Professional Crown, Bridge & Denture Repair
---
Get your crowns, bridges, or dentures repaired in a timely manner with our affordable emergency dentists.
Experienced Dentists
In Tooth Fillings
---
Find immediate relief from your tooth pain with a tooth filling from our innovative, experienced dental team.
Visit Our Emergency Dental Office Near Safety Harbor
Serving
Safety Harbor

& Surrounding Areas
1935 Drew St,
Clearwater, FL 33765
OFFICE HOURS:
Monday: 7:30 AM – 5:00 PM
Tuesday: 7:30 AM – 5:00 PM
Wednesday: 7:30 AM – 8:00 PM
Thursday: 7:30 AM – 5:00 PM
Friday: 7:30 AM – 7:00 PM
Saturday: 7:30 AM – 5:00 PM
Sunday: 9:00 AM – 4:00 PM
WALK-IN HOURS:
Monday: 8:30 AM – 2:00 PM
Tuesday: 11:00 AM – 2:00 PM
Wednesday: 1:00 PM – 8:00 PM
Thursday: 8:30 AM – 2:00 PM
Friday: 9:00 AM – 7:00 PM
Saturday: 9:00 AM – 5:00 PM
Sunday: 11:00 AM – 4:00 PM
*Hours are subject to change. Please call for an appointment.
Walk-ins are available on a First Come / First Serve Basis.
Our Dental Patients' Reviews
I had been in so much pain every dentist I called said they were booked or needed multiple consultations. Thank god I found the dental emergency room I got my painful tooth pulled quickly and was back to work the next morning!!!
Hands down this place is the Best dental clinic in the twin cities. Got an appointment for a tooth extraction on the same day I called in was in so much pain and left the clinic happy…officially made this my regular dental and highly recommend it to all in need of an tooth emergency.
They didn't rush the process and they made sure that I understood what was going on and why. Also, the front desk was very nice and polite as well! The dentist he definitely knew what he was talking about which I liked a lot! I will definitely recommend and I will definitely come back and my family liked it as well, thanks!
Frequently Asked Questions

About Our Dental Services
Get In Touch With Our Safety Harbor Emergency Dentists
Contact Our Safety Harbor Dental Office Today!
---