Affordable Cosmetic Dentist Services Near You

We Accept Most Dental Insurance Plans
Whether you need your teeth whitened or just want to improve the look of your teeth, gums or your bite, you can come see us. We can do a lot of things to make your smile the best it can be… and all at a price that you are sure to love. Best of all, we take almost any kind of dental insurance – you get to keep more money in your pockets. Check us out!
Treat Any Dental Emergency


With Our Certified Dentists
When you are experiencing severe tooth pain and need immediate assistance, get help from our Clearwater Emergency dentists at The Dental Emergency Room.
Dental Injuries Caused
By Car Accidents
---
Car accidents can cause a wide range of serious injuries, including dental injuries, which can be painful and put your overall oral health at risk if you don't get treated.
An abscessed tooth can cause pain, bad breath, fever, and other serious symptoms that our Clearwater dentist can help address to give you relief.
Cracked and broken teeth can be extremely painful, and at The Dental Emergency Room, our trusted team of emergency dentists can find the right treatment for you.
Pain Caused By
Orthodontic Appliances
---
Orthodontic appliances can cause a lot of pain and discomfort that only a certified dentist can help relieve. Contact us today to find out how we can help you.
At The Dental Emergency Room, we provide affordable emergency dentistry for when your wisdom teeth are impacted and causing you severe pain and swelling.

Tooth infections can cause severe throbbing pain in the jaw, neck, or ear, which can be a strong indication that you need to seek emergency dental care as soon as possible.
Broken Crowns, Bridges
Or Dentures
---
If your bridges, crowns, or dentures have been damaged, visit our trusted emergency dental office near Clearwater, Florida to get the immediate care you need!
Schedule Your Appointment Today
Clearwater's Leading Emergency Dental Clinic

Certified Dental Emergency Procedures
Emergency Tooth
Extraction Dentists
---
Our emergency tooth extractions dentists in Clearwater, Florida use the latest in tooth removal technology and cutting edge techniques to give you quick relief!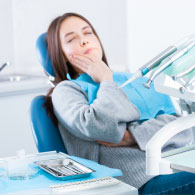 Tooth Infection
Treatments For Pain Relief
---
Get help from our tooth infection dentists for the most efficient and affordable pain relief in Clearwater at The Dental ER. Contact us today to learn more!
Qualified Dentists
For Oral Surgery
---
When you are in need of painless oral surgery procedures in Clearwater, contact our qualified emergency dentists at The Dental ER to get the best care in Florida.
Effective Oral
Sedation Dentistry
---
Many people are nervous when they visit the dentist, which is why we provide the best solutions and effective oral sedation dentistry in Clearwater from our #1 emergency dentists.
Professional Crown, Bridge & Denture Repair
---
When your crowns, bridges, or dentures fail or break, it's critical to get them repaired in a timely manner with help from our affordable emergency dentists.
Experienced Dentists
In Tooth FIllings
---
Using the most advanced dental techniques, our experienced tooth filling dentists can give you immediate relief from your tooth pain.
Serving
Clearwater And Surrounding Areas
Please call to book an appointment
Sunset Lake Estates
33755
1935 DREW ST, CLEARWATER, FL 33765
Hands down this place is the Best dental clinic in the twin cities. Got an appointment for a tooth extraction on the same day I called in was in so much pain and left the clinic happy…officially made this my regular dental and highly recommend it to all in need of an tooth emergency.
Zeitun A.★★★★★
also didn't rush the process he made sure that I understood what was going on and why. Also, the front desk was very nice and polite as well! The dentist he definitely knew what he was talking about which I liked a lot! I will definitely recommend and I will definitely come back and my family liked it as well, thanks!
Kee J.★★★★★
I had been in so much pain every dentist I called said they were booked or needed multiple consultations. Thank god I found the dental emergency room I got my painful tooth pulled quickly and was back to work the next morning!!!
Carmella D.★★★★★
Frequently Asked Questions

About Our Dental Services
Get Seen Right Away
Contact Us Today
---