Treat All Dental Emergencies With St Petersburg's Leading Dentists
We Accept Most Dental Insurance Plans
The Dental Emergency Room provides efficient emergency dentistry services for St Petersburg residents. We understand how vital your oral health is to your overall well-being, which is why our emergency care dentists are backed by years of experience. If you ever need an on-call dentist near St Petersburg, FL or the surrounding areas, visit our dental clinic and get emergency dental treatment as soon as possible.
St Petersburg Dentists Specializing In


Dental Emergencies Including:
This can indicate a number of things, from a cavity to a cracked tooth. Come see a St Petersburg emergency dentist today.
Car Accident
Dental Injuries
---
If you're involved in a car accident and suffer dental injuries, it's important to know the next step to take. Our on-call St Petersburg dentist will provide treatment for your mouth and any other injuries.
This is when a pocket of pus forms in different areas of the tooth from bacteria. There can be pain or swelling and require emergency dentistry.
Whether from biting on something or grinding your teeth, you need to see a St. Petersburg emergency dentist quickly.
Orthodontic
Appliances Pain
---
There are times that orthodontic pain can go beyond discomfort. If that is the case, come to an emergency dental clinic.
Normally, wisdom teeth come out straight. There are times it will push against other teeth. The Dental Emergency Room can help.

You do your best, but sometimes bacteria can make their way in your mouth and cause infections. See an emergency dentist immediately.
Broken Crowns, Bridges
Or Dentures
---
Despite your best efforts, if your dental crown, bridge or denture breaks, you need to have them fixed quickly and an emergency dental clinic can help.
Schedule A Free Consultation Near St Petersburg Today!
St Petersburg's Most Trusted Emergency Dental Clinic
Certified Dental Emergency Procedures
Emergency Tooth
Extraction Dentists
---
You wake up and find yourself in extreme pain. You see an emergency dentist and they tell you the tooth is beyond repair. An emergency tooth extraction may be needed.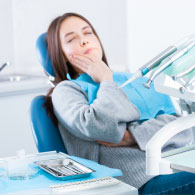 Tooth Infection
Pain Relief Treatment
---
Having an infected tooth can be extremely painful. Fortunately, the staff at The Dental Emergency Room in St. Petersburg can help you with your pain.
Highly Qualified
Oral Surgery Dentists
---
Our emergency oral surgeons are more than capable of taking care of any situation that they see. You will get the best results from their work.
Safe & Effective Oral Sedation Dentistry
---
There is no shame in being nervous about going to the dentist. We offer sedation dentistry which will make the whole procedure effortless and relaxing.
Professional Crown, Bridge & Denture Repair
---
Our staff at the Dental Emergency Room can make your crowns, bridges, and dentures look brand new. We will ensure that they fit you perfectly.
Experienced Dentists
In Tooth Fillings
---
Although fillings are common, it is still a dental procedure. Our dentists have it down to an art form. You will find the entire thing very easy.
Visit Our
Emergency

Dental Clinic Near St Petersburg, FL
1935 Drew St,
Clearwater, FL 33765
OFFICE HOURS:
Monday: 7:30 AM – 5:00 PM
Tuesday: 7:30 AM – 5:00 PM
Wednesday: 7:30 AM – 8:00 PM
Thursday: 7:30 AM – 5:00 PM
Friday: 7:30 AM – 7:00 PM
Saturday: 7:30 AM – 5:00 PM
Sunday: 9:00 AM – 4:00 PM
WALK-IN HOURS:
Monday: 8:30 AM – 2:00 PM
Tuesday: 11:00 AM – 2:00 PM
Wednesday: 1:00 PM – 8:00 PM
Thursday: 8:30 AM – 2:00 PM
Friday: 9:00 AM – 7:00 PM
Saturday: 9:00 AM – 5:00 PM
Sunday: 11:00 AM – 4:00 PM
*Hours are subject to change. Please call for an appointment.
Walk-ins are available on a First Come / First Serve Basis.
What Our Patients Have To Say
Hands down this place is the Best dental clinic in the twin cities. Got an appointment for a tooth extraction on the same day I called in was in so much pain and left the clinic happy…officially made this my regular dental and highly recommend it to all in need of an tooth emergency.
Zeitun A.★★★★★
also didn't rush the process he made sure that I understood what was going on and why. Also, the front desk was very nice and polite as well! The dentist he definitely knew what he was talking about which I liked a lot! I will definitely recommend and I will definitely come back and my family liked it as well, thanks!
Kee J.★★★★★
I had been in so much pain every dentist I called said they were booked or needed multiple consultations. Thank god I found the dental emergency room I got my painful tooth pulled quickly and was back to work the next morning!!!
Carmella D.★★★★★
Frequently Asked Questions

About Our Dental Services
Get Treatment Immediately
Contact St Petersburg's Leading Dental ER Today!
---