Affordable Emergency & Cosmetic Dentistry Near You
Accepting Most Major Dental Insurance Plans
At the Dental ER we are glad to help all Lago residents with any kind of dental emergency. We also will work with all kinds of dental insurance companies. Dealing with that will be the least of your worries. If you find yourself in a situation where you can't wait to see a dentist during regular hours, you can come see us. Our highly qualified staff will fix the situation as quickly as possible.
Severe Tooth
Pain
---
Sometimes you wake up in the middle of the night experiencing terrible tooth pain. Come see an emergency dentist who can treat it immediately.
Dental Injuries Or Trauma
Caused By Car Accidents
---
Car accidents can be quite dangerous … especially if you happen to slam your face into the steering wheel. That can cause damage to your teeth or jaw. Seek a dentist immediately.
Abscessed
Tooth
---
This happens when bacteria builds up in your gums and causes issues. It can turn worse very rapidly. We have helped many Lago residents with abscessed teeth.
Cracked Or
Broken Teeth
---
You might have been hit in the face while playing basketball. That could crack or break your teeth. Keep an infection from setting in by seeing an emergency dentist.
Pain Caused By Orthodontic Appliances
---
Sometimes your orthodontic appliances may cause you problems beyond mild discomfort. If that is the case, you should see a dentist as quickly as possible.
Impacted Wisdom
Teeth
---
If you find yourself in this situation, it can be very painful. You want the impacted wisdom tooth out almost immediately. We can do that for you at the Dental ER.

Oral & Tooth
Infections
---
The last thing you want is to let an oral infection linger. It can quickly worsen and result in your needing extensive dental work. Our skilled emergency dentists can nip the problem in the bud.
Broken Crowns,
Bridges Or Dentures
---
Having any of these items break is a disaster that needs to be remedied fast … by professionals. Do not try to fix them yourself.
Schedule A Dental Appointment Today!
Emergency Tooth
Extraction Dentists
---
There are times that you need to have a tooth taken out … now. Our highly qualified staff can do that for you almost painlessly.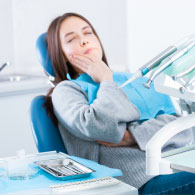 Tooth Infection
Treatments For Pain Relief
---
If you are a Lago resident who has a tooth infection, come see us at the Dental ER. We can treat it quickly and make any pain or discomfort go away quickly.
Qualified Dentists
For Oral Surgery
---
We have dentists who are ready for oral surgery and have been highly trained in it for a long time. They will do the job efficiently and you will have minimal healing time.
Effective Oral
Sedation Dentistry
---
A dental emergency can be stressful enough. Having to sit in the chair and have work done can send some into a panic. We offer sedation dentistry to make things easier for you.
Professional Crown, Bridge & Denture Repair
---
Have you broken a crown, bridge, or denture? We have people on staff that can fix them to look just like new for you. Contact us today to get things started.
Experienced Dentists
In Tooth Fillings
---
Do you need a filling? Our emergency dentists are ready to help Lago residents have their cavities filled. They do it efficiently and will have you out as fast as possible.
Visit Our Emergency Dental Office Near Largo
Serving
Largo

& Surrounding Areas
1935 Drew St,
Clearwater, FL 33765
OFFICE HOURS:
Monday: 7:30 AM – 5:00 PM
Tuesday: 7:30 AM – 5:00 PM
Wednesday: 7:30 AM – 8:00 PM
Thursday: 7:30 AM – 5:00 PM
Friday: 7:30 AM – 7:00 PM
Saturday: 7:30 AM – 5:00 PM
Sunday: 9:00 AM – 4:00 PM
WALK-IN HOURS:
Monday: 8:30 AM – 2:00 PM
Tuesday: 11:00 AM – 2:00 PM
Wednesday: 1:00 PM – 8:00 PM
Thursday: 8:30 AM – 2:00 PM
Friday: 9:00 AM – 7:00 PM
Saturday: 9:00 AM – 5:00 PM
Sunday: 11:00 AM – 4:00 PM
*Hours are subject to change. Please call for an appointment.
Walk-ins are available on a First Come / First Serve Basis.
Our Dental Patients' Reviews
I had been in so much pain every dentist I called said they were booked or needed multiple consultations. Thank god I found the dental emergency room I got my painful tooth pulled quickly and was back to work the next morning!!!
Carmella D.★★★★★
Hands down this place is the Best dental clinic in the twin cities. Got an appointment for a tooth extraction on the same day I called in was in so much pain and left the clinic happy…officially made this my regular dental and highly recommend it to all in need of an tooth emergency.
Zeitun A.★★★★★
They didn't rush the process and they made sure that I understood what was going on and why. Also, the front desk was very nice and polite as well! The dentist he definitely knew what he was talking about which I liked a lot! I will definitely recommend and I will definitely come back and my family liked it as well, thanks!
Kee J.★★★★★
Frequently Asked Questions

About Our Dental Services
Get In Touch With Our Largo Emergency Dentists
Contact Our Largo Dental Office Today!
---